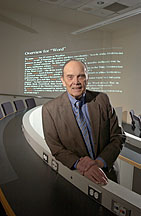 George A. Miller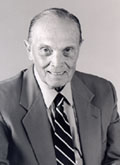 James S. McDonnell Distinguished University Professor of Psychology, Emeritus.

Princeton University
Department of Psychology
1-S-5 Green Hall
Princeton, NJ 08540


Phone: 609-258-5973 or 609-258-2972
Fax: 609-258-1113

---
Senior research psychologist and principal investigator of WordNet.

Author of The Magical Number Seven, Plus or Minus Two: Some Limits on our Capacity for Processing Information, (1956), The Psychological Review.


Published in 2003 in "TRENDS in Cognitive Sciences" is The cognitive revolution: a historical perspective.

Photograph on left &copy 2003 Jon Roemer Photography. All rights reserved.