A New Musical Controller:
The "COWE" by Perry Cook 2003
the zen master said to the hot dog vendor:
"make me one with everything"
Well, this controller is my shot at making
"one with everything," thus the name:
Controller, One With Everything
or COWE (pronouced "cow")
*Thanks to Michael Gurevich for the inspiration for the name
The basic idea started out as an experiment to make the ultimate shaker/scraper percussion controller, for use with my PhISEM (Physically Inspired Stochastic Event Model) instruments (see STK, my book, articles, etc. about PhISEM). So I wanted to be able to shake, scrape, rub, etc., plus have lots of control for managing presets and parameters while playing. Once it got underway, it looked so much like a little wind instrument that I added a breath controller too. There's also a couple of other treasures hidden in the case.
The microprocessor is a BasicStampIISX, with a MAXIM 1271 8-channel A/D, and a 251MUX for switch decoding. The total complement of sensors on this device, and roughly how they're hooked up, includes:
4 Rotary Pots, connected to 1271 A/D channels 4-7
1 Slide Pot (with motorized positioning for haptics),
connected to 1271 A/D channel 3
Motorola MPX5010DP air pressure sensor,
connected to 1271 A/D channel 2
Linear Force Sensing Resistor, wiper connected
to 1271 A/D channel 1
Further, this wiper is connected via a 100K resistor
to pin 1 of the BSIISX (more on this later)
One side of the FSR is connected to ground,
and the other is connected to pin 2 of the BSIISX
8 pushbutton switches, arranged in a line (so we
do fake recorder/flute instrument fingerings,
connected to the 8 inputs of the MUX251
The output of the MUX is connected to BSIISX pin 5
The three address pins of the MUX are connected to
the BSIISX pins 9-11
Two extra push buttons located on the lower side of
the COWE, connected to BSIISX pins 3 and 4
Analog Devices ADXL202 2-axis accelerometer,
connected to pins 6 and 7 of the BSIISX
The interface pins between the MAXIM A/D are connected:
CS, BSIISX pin 11
SCLK, pin12
DATA In, pin13
DATA Out, pin14
MIDI output from pin 15 of the BSIISX
There's also an LED connected to this pin to indicate MIDI activity
Here's my original lab notebook page (yep I put many/most of my thoughts/designs into one of these):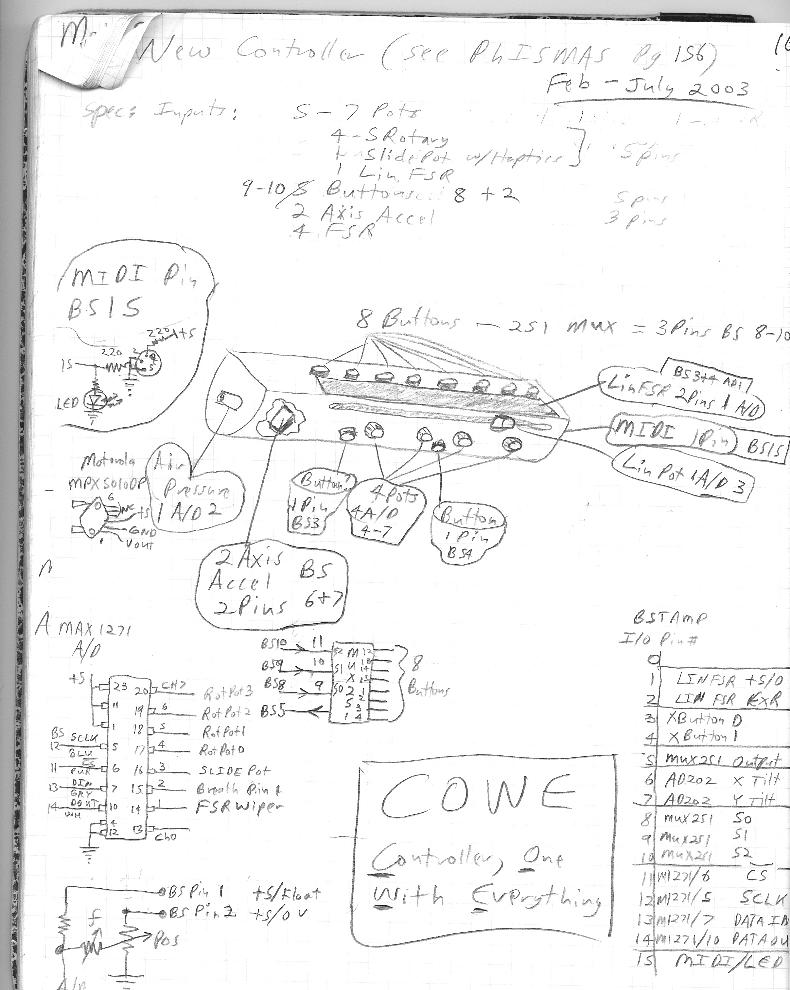 And finally, here's a big chunk of code that includes routines for accessing the sensors, and various test/demo functions