Part 2: Language Tools
The Voyant system is widely used in digital humanities. It provides tools for counting things in documents and visualizing trends and associations among the words in one or more documents.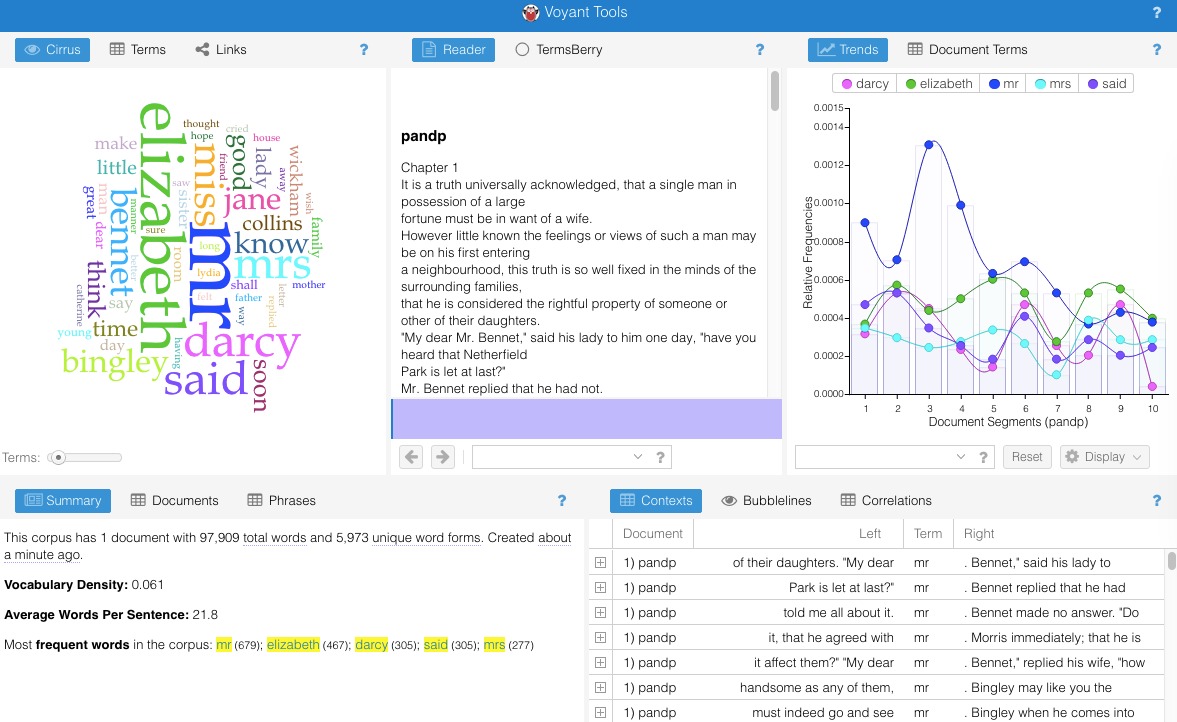 Start it up, examine either the Jane Austen or Shakespeare corpora that are already present (or both if you find it fun). Who used a bigger vocabulary? Who wrote longer sentences?
Now upload a text that you are interested in, for example a single novel or historical document. It should be of reasonable size, at least 10,000 words. (Pride and Prejudice is about 120,000 words, Jane Eyre is 185,000, Moby Dick is 210,000.) You can use these if you have no specific literary interest, but it might be more fun to grab something that appeals to you from a site like Project Gutenberg. (It's ok to use whatever text you used in the previous lab.)
Capture a word cloud ("Cirrus") that you like and include it in your ongoing report.
Pick two of the many tools that Voyant provides, and use them to produce some images and perhaps insights that you found interesting, illustrative, appealing, or whatever. (Voyant handles other languages besides English, if you'd like to explore that aspect.) The tools are available from the tiny icon that looks like a perspective view of 4 panes; it comes and goes at the top right of various windows.
Submit some combination of a couple of paragraphs of text and at least two images, including
The book(s) you picked
A word cloud
The tools that you found most useful or insightful
The displays that you particularly liked
"Sentiment analysis" refers to the process of trying to determine whether a piece of text is fundamentally positive or negative; this has many applications in trying to understand customer feedback and reviews, survey responses, news stories, and the like.
Paste some text into the window and it will give you a score that indicates whether the text is positive or negative in tone, along with the words that led it to its conclusion. There's no limit to how much text you can give it, but a few hundred words is plenty.
One problem with Sentimood is that it doesn't understand English at all; it's just counting words. Could we do better by parsing sentences, perhaps to detect things like negation ("He is not an idiot") or qualification by a clause ("A bit slow but certainly not an idiot") or irony ("My, that is a baby, isn't it?").
More sophisticated sentiment analyzers sometime do a better job of parsing English, and thus are better at assessing sentiment, though they are easily fooled. For example, this demo of a commercial service might best be described as "mixed." The input